So it's been about 2 weeks since I got back from Spain so I thought it was about time to share it with you in the shortest form I can manage!



Yes, we got caught in the first day of the 'Critical' Terror alerts. After 7 hours of queuing and not having any idea of what was actually going on, I was finally sitting on my easyjet flight with nothing but my passport and my wallet! it was 1pm and I had been up since 5:30am. It was scary, and despite being happy that they were taking insane precautions, I was very grumpy!

I think the easiest way to go through my rather full 10 days of Spain is in kinda point form by city.

Barcelona
I love Barcelona- It's a city I could see myself living in. Its vibrant and busy, but still has the charming tiny backstreets that are so 'Spanish'.

Awesome tiny bars- one night saw us roaming the backstreets, sitting in an old traditional bar, a newer funky traditional bar, a total dive, a really funky lounge style warehouse bar and then in a random Jazz club (where I bought the coolest cd that hasn't left our cd player!)

The Massive hike up to the castle/fort on the hill over looking Barcelona gave us the birds eye view of how big it actually is! I love the fact that when in the back streets it feels like a small town, when on the main street it feels like a busy buzzing city and when on the beach it feels like a coastal getaway.

The most amazing building that we saw on our trip was definitely Gaudi's Sagrada Familia.
It's still being built- and the neo gothic style and detail makes it one of the most amazing structures I have ever seen.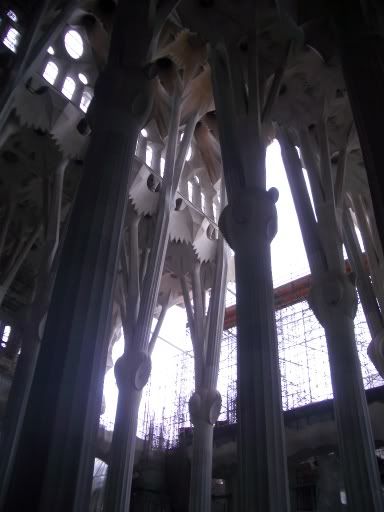 We did start off our trip backpacking, managed to get a private room in an awesome hostel which was in an apartment building where the apartments had just been converted into assorted sized rooms. Our room looked over the cutest courtyard where the cuban owner would bbq interesting meats and make mojitos everynight. The only hazard was the old man across from us who took down his washing in his giant undies, and then proceeded to stuff the washing into his undies before going back inside. interesting.




(4.5 hour bus trip to Valencia)

Valencia
Valencia is a quiet version of Barcelona. Before I went there it was described to me as a big city with a small town feel- I couldn't have put it better myself. The buildings all through the city are amazing.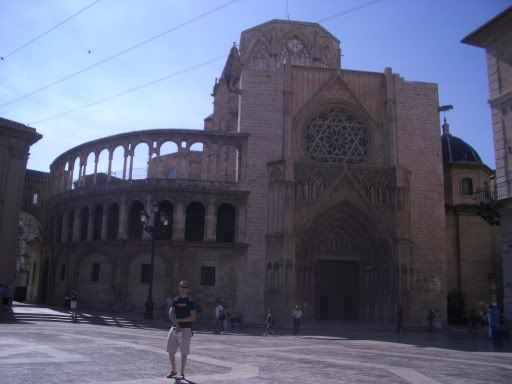 Being Spain in August, we expected it to be hot. But the weather that we came across in Valencia was insane. So sunny, and so hot! I love the heat, but this was getting close to unbearable outside, and inside our hostel was a joke. We were there for 2 nights, sharing a 4 bed room with another couple. The rooms all faced an inside courtyard which was the lounge, but other than that had no opening windows. The heat was oppressive- I don't think I slept the 2 nights that we were there. We had 6 fans going in our room and I still felt like I was dying. yucky!




Thank god the beach there was great (although quite far away- about 20 minutes on the tram from the town centre). My first full swim in the Mediterranean (since March: weather was warm in north Africa but the water wasn't!!) and it was like taking a bath! I have never been in water that warm- even in north Queensland.

(2 hour train ride to Alicante)



Alicante
This was the relaxing middle leg of our trip. We needed somewhere to stop between Valencia and Southern Spain so Alicante it was. Having not booked any accommodation in advance our options were limited- the cheapest thing we could find was a 4 star hotel skyscraper where our apartment (!!) had a bedroom, lounge room and marble bathroom with air con! yay! we looked a sight rocking up with our packs but getting a good nights sleep, having our own bathroom and being able to order beer from room service was definitely worth it.

Room with a view:




2 days on the beach, eating tapas and drinking Sangria, with a view to die for from our 19th floor room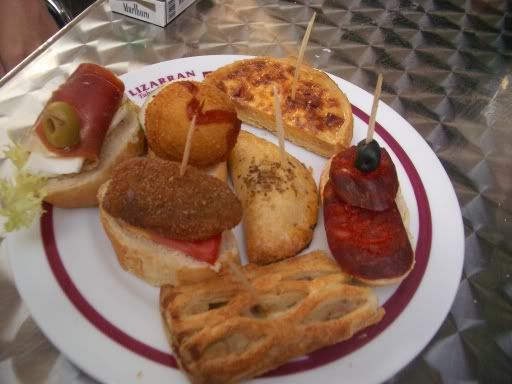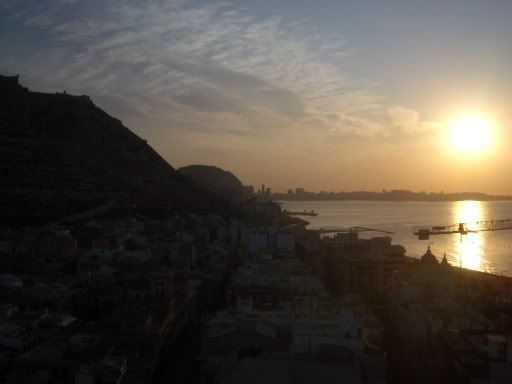 Trend of castles/forts: Smart in case of invasions, and awesome tourist attractions. See the city from a birds eye view, and take awesome photos! The actual structures themselves are also incredible.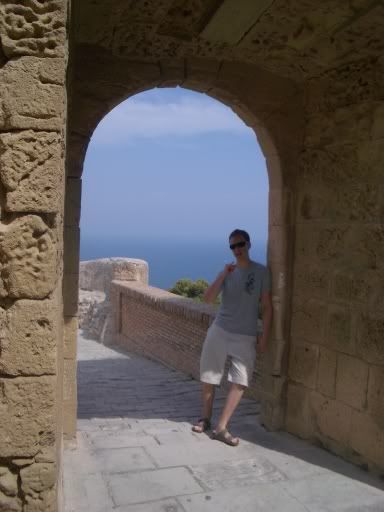 (5 hour bus ride to Almeria, on the back seat in the midday sun with about a million screaming children on the bus and no air con. not cool.)

Almeria

The wind! oh my god the wind. I have never ever almost been blown over whilst walking down the street.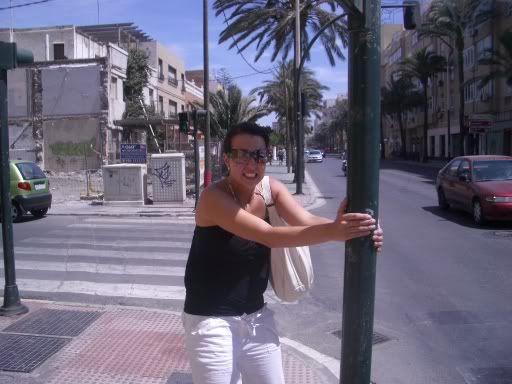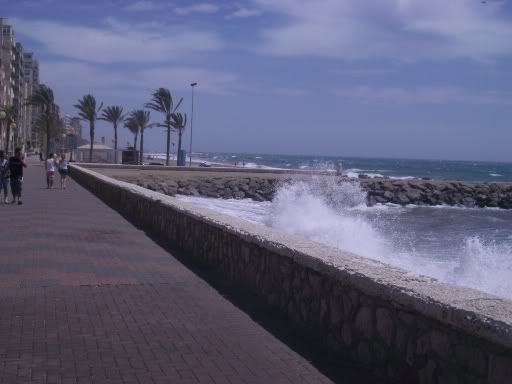 But so so pretty.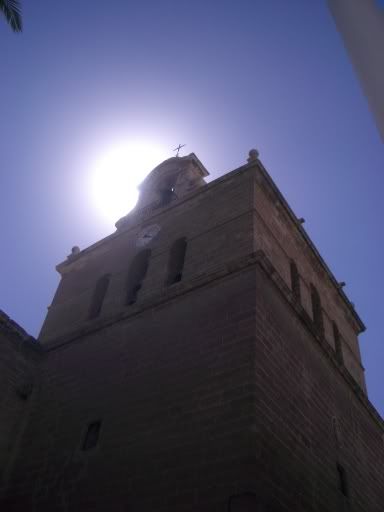 The castle/fort in Almeria was particularly amazing due to it's giant wall thing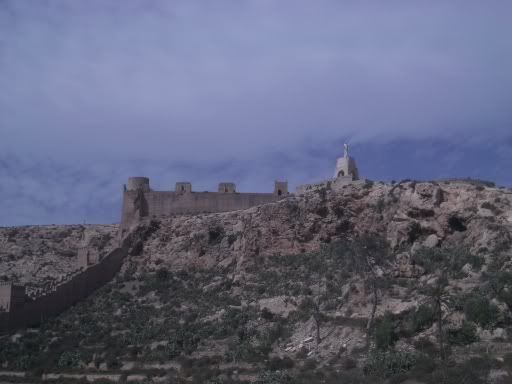 and half renovated state: amazing gardens on one side, and practially rubble on the other. Unfortunately due to the wind I whinged, and we fought and I fell over and it was hard to appreciate the beauty with my hair whipping my face, but looking back on the photos now I can see it.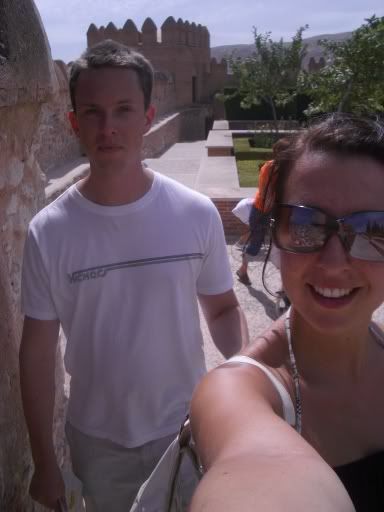 (2 hour train ride to Granada))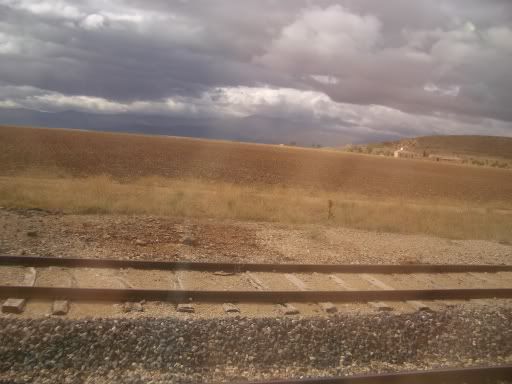 Granada
Granada was a bit of a gamble- we weren't initially going but a few people in Barcelona told us that it was an awesome student town etc etc. Since the train ride to Seville was 5 hours altogether we figured it was worth stopping in Granada for a night. The place we stayed was nice, but in the bad part of town. The only rain was had on our whole trip was that day in Granada which made the whole sightseeing thing pretty unpleasant. We trudged around for a while, but decided a hot shower and a siesta would be a better idea until it stopped raining! And sure enough- we got up and headed into town for some shopping, food and drink and it was lovely.

The main shopping street leads up to this amazing little alley way that leads to their castle (surprise surprise!) and the old town has the cutest little lanes that lead to huge squares filled with restaurants and bars.




(3 hour train ride to Seville)

Seville

Simply said, Seville is beautiful.

Our accommodation was in the typical style villa- where the rooms all open out into a courtyard. It also had a rooftop garden which was lovely for an afternoon siesta.




Main Cathedral in the town centre is the 2nd biggest cathedral in Europe. Originally a Muslim Mosque was built on the site, and the Catholics rebuilt it in gothic style when it started to crumble. The bell tower is the only remnant of the Mosque.




Los torros- the Bulls. Unfortunately the big fight was on the weekend after we were there! but we got to see the bull ring and museum anyways.

(and Adam made me do a stupid bull impression and then took a photo- hahaha)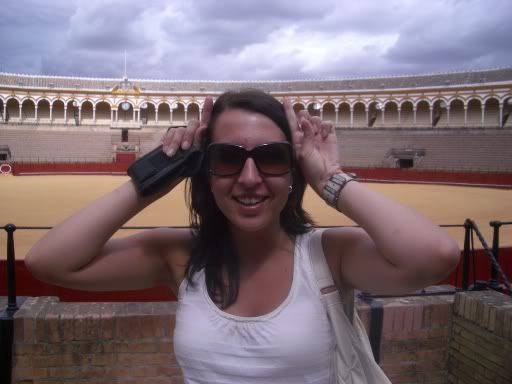 Flamenco show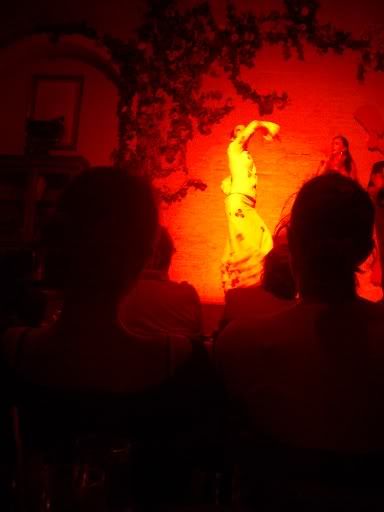 Tapas




and walks took up the rest of our trip.




</ljcut>

I love Spain. The people, the language, the culture (siesta every day!), the food.